Accelerate your research
Single Cell
Sequencing
Germany
As a leading provider of single-cell RNA sequencing services in Germany, we are dedicated to helping researchers and scientists in the region unlock the incredible potential of this powerful technology. Our state-of-the-art facilities and expert team of scientists allow us to provide high-quality, reliable results that can help advance your research and drive innovation.
Single-Cell Sequencing
Service Provider in Germany
A revolutionary approach to transcriptomics, single-cell RNA sequencing allows researchers to study individual cells at a level of detail that was previously unimaginable. This technology is particularly useful for studying complex tissues and systems, as it allows researchers to analyze the gene expression profile of each individual cell rather than just an average of the whole tissue.
Our experience is unmatched in the field
At our facility, we use cutting-edge technology and advanced automated techniques to provide accurate and reliable single-cell RNA sequencing services. Our team of experts is highly trained and experienced in working with this technology, and we are committed to providing the highest level of support and assistance to our clients.
We tailor our services to your need
Whether you are a researcher looking to study a specific tissue or cell type, or a scientist looking to gain new insights into the workings of a complex system, our single-cell sequencing services can help you achieve your goals. We offer a range of customizable options, including various sequencing platforms and downstream analysis services, to ensure that you have the tools and support you need to succeed.
Shipping from Germany
Easily ship your samples from Germany to Single Cell Discoveries via Deutsche Post DHL or another courier. For SORT-seq or VASA-seq, you can quickly order the required cell-capture plates online and have them delivered to your doorstep.
If you are interested in learning more about our single-cell RNA sequencing services and how they can benefit your research, please don't hesitate to schedule a consultation. Our team is always happy to answer any questions you may have and provide you with more information on how we can help you achieve your goals.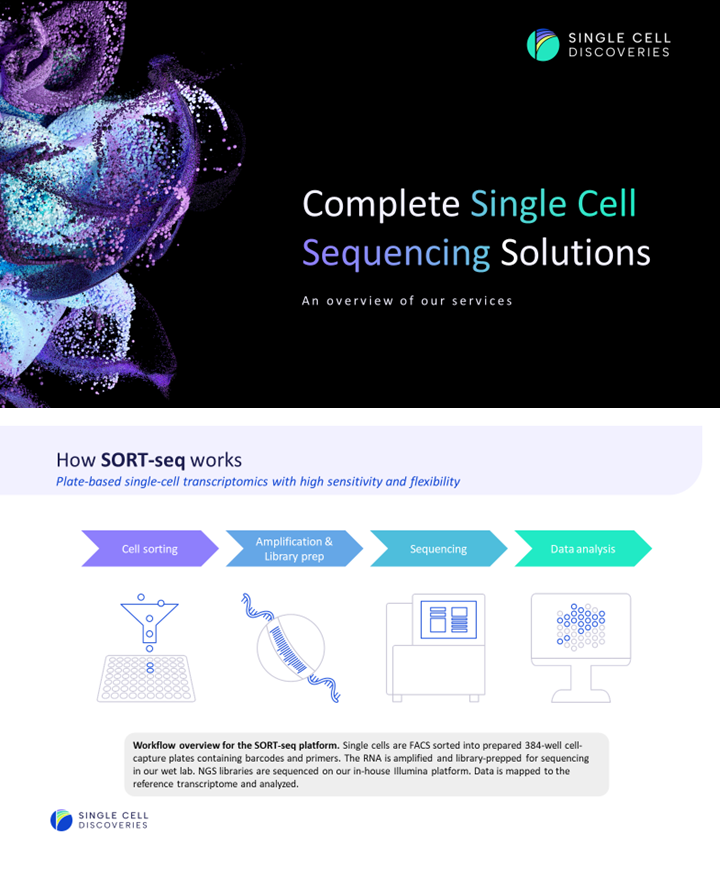 Get the Information Guide
Download our information guide to access an overview of Single Cell Discoveries, explore our single-cell sequencing services, learn how to get started, and gain more valuable insights.
Our services
We offer single-cell, spatial and bulk transcriptomics.
Our R&D team is actively developing novel single-cell sequencing technologies,
multi-omic applications and spatial transcriptomics.
SORT-Seq
Single-cell transcriptomics method utilizing 384-well plates, ideal for low cell counts, FACS sorted populations, and pilot projects. Developed by our founder, exclusively offered by us.
10x Genomics
Certified Service Provider of the 10x Genomics Single Cell Gene Expression and Single Cell Immune Profiling solutions, ideal for high- throughput applications.
VASA-Seq
Single-cell RNA sequencing method for full- length and total RNA, ideal for analyzing non- coding RNA and complete transcriptomes. Developed by one of our team members, exclusively offered by us.
Spatial Transriptomics
Transcriptomics method for analysis of spatial gene expression and histology, ideal for the study of cell localization and cell-cell interactions.
Bulk RNA Sequencing
Comprehensive transcriptome analysis of pooled cell populations, ideal for limited starting material and large projects requiring cell population data.
Dr. Bram Slütter
Leiden Academic Centre for Drug Research
"It's the expertise that Single Cell Discoveries has in single-cell and T cell receptor sequencing, even though you are flexible, that makes it preferential for us to work with an industry partner like you."
Dr. Samuel García Pérez
Galicia Sur Health Research Institute
"Fantastic job made by a really professional and friendly team. I strongly recommend Single Cell Discoveries for sequencing services."
Dr. Vanessa LaPointe
MERLN Institute for Technology-Inspired Regenerative Medicine
"What we appreciate most is the nature of the collaboration. With Single Cell Discoveries, we could discuss the design of our 10x Genomics experiments, which analyses to do, and how to solve our challenges."
The premier single-cell CRO
Accelerate your research with our tailored single-cell sequencing solutions
Located in Utrecht, the Netherlands, our purpose-built single-cell sequencing lab is operated by a team of PhD-level scientists, some of whom have pioneered the single-cell platforms we employ to deliver exceptional service. At Single Cell Discoveries, we are dedicated to crafting customized solutions for your unique challenges, ensuring rapid turnaround times, and unlocking high-impact biological insights. We eat, sleep, and breathe single-cell biology so you can focus on advancing your discovery program.
How we supercharge
your research
Step 1
Consultation
Every project starts with one or more free consultations because no two single-cell projects are the same. Our experienced PhD-level team discusses your biological question, sample type, planning, data analysis options, and other wishes. This will ensure you select the best method for your project and can hit the ground running.
Step 2
Sample Preparation
For 10x Genomics, create a single-cell suspension from your sample and either cryopreserve or methanol-fix the cells. For SORT-seq, FACS-sort the single cells into the wells of our cell capture plates. Then, send your samples to our lab on dry ice. In the case of nuclei, the sample preparation depends on the project. 
Step 3
Processing in Our Lab
Our experienced team performs the 10x Genomics protocol in our lab. We sequence the libraries on our Illumina NovaSeq X Plus or NextSeq 2000. We'll do multiple QC checks and keep you informed of the status of your project.
Step 4
Data Analysis
Our data team performs preliminary data analysis using a Seurat pipeline, checks the data quality and discusses irregularities with our lab team if necessary. You will receive the raw data files, data report, and guiding explanations. Talk to our data consulting team for help or request additional assessments such as pseudotime and gene set enrichment analysis.
That depends on your biological question, sample type, and budget. Feel free to schedule a meeting with one of our experts to discuss your project in more detail. We'll make sure to advise you on the best platform for your project.
Information Guide
Discover our single-cell sequencing solutions
Download our information guide to access an overview of Single Cell Discoveries, explore our single-cell sequencing services, learn how to get started, and gain more valuable insights.