Our Approach
Our complete
end-to-end approach
In our single-cell sequencing approach, we start with understanding your biological question, then we design an experimental and analytical workflow to maximize insights. Our team leverages a decade of single-cell experience to deliver high-impact answers.
Our unique single-cell
sequencing approach
Our team of highly skilled scientists, bioinformaticians, and project managers work closely with you to ensure seamless collaboration. Together, we'll craft a strategy to answer your biological question. Then, we will execute the entire workflow in our purpose-built facility to ensure each step meets our exacting standards for quality, accuracy, and reproducibility. Finally, we are committed to delivering reliable data that leads to actionable insights to advance your discovery program.
How we supercharge
your research
Project Design
During our consultations, we will align on your biological question, timeline, and sample type to design a robust experimental workflow using the ideal sequencing technology. Our PhD account executives will involve our R&D scientists and bioinformaticians to tailor our protocols to your specific needs. We can support you with:
Pilot projects
High-throughput single-cell analyses
Single-cell sequencing of clinical samples
Bespoke solutions for novel biological questions and challenging samples
Tim Muntslag, PhD
Account Executive
Tim Muntslag, PhD will be your touch-point from initial consultation through analyzing the results to make sure we achieve your objectives. Tim Muntslag received his PhD in microglial heterogeneity, during which he employed both single-cell and spatial transcriptomics technologies to generate a high-resolution molecular understanding of microglia.
May Ho, PhD
Account Executive
May Ho, PhD, manages client relationships and ensures that they receive the best possible service from our company. She pursued a PhD in neurodevelopment at the Max Planck Institute for Biological Intelligence in Germany. In her thesis, she applied single-cell genomic technology to study inhibitory neuron fate commitment and developed a single-cell–compatible lineage tracing method.
Sample Processing
At our lab, we process your samples according to the chosen protocol and are dedicated to delivering high-quality data. Our team of scientists has years of experience with single-cell sequencing, including from the early days when analyzing was just one cell at a time! Our scientists are dedicated to delivering high-quality data and will adapt our workflow to accommodate all sample types, such as nuclei or low-viability samples. Our team performs the end-to-end workflow in our purpose-built facility with quality control steps along the way, so you can be confident your precious samples are handled properly.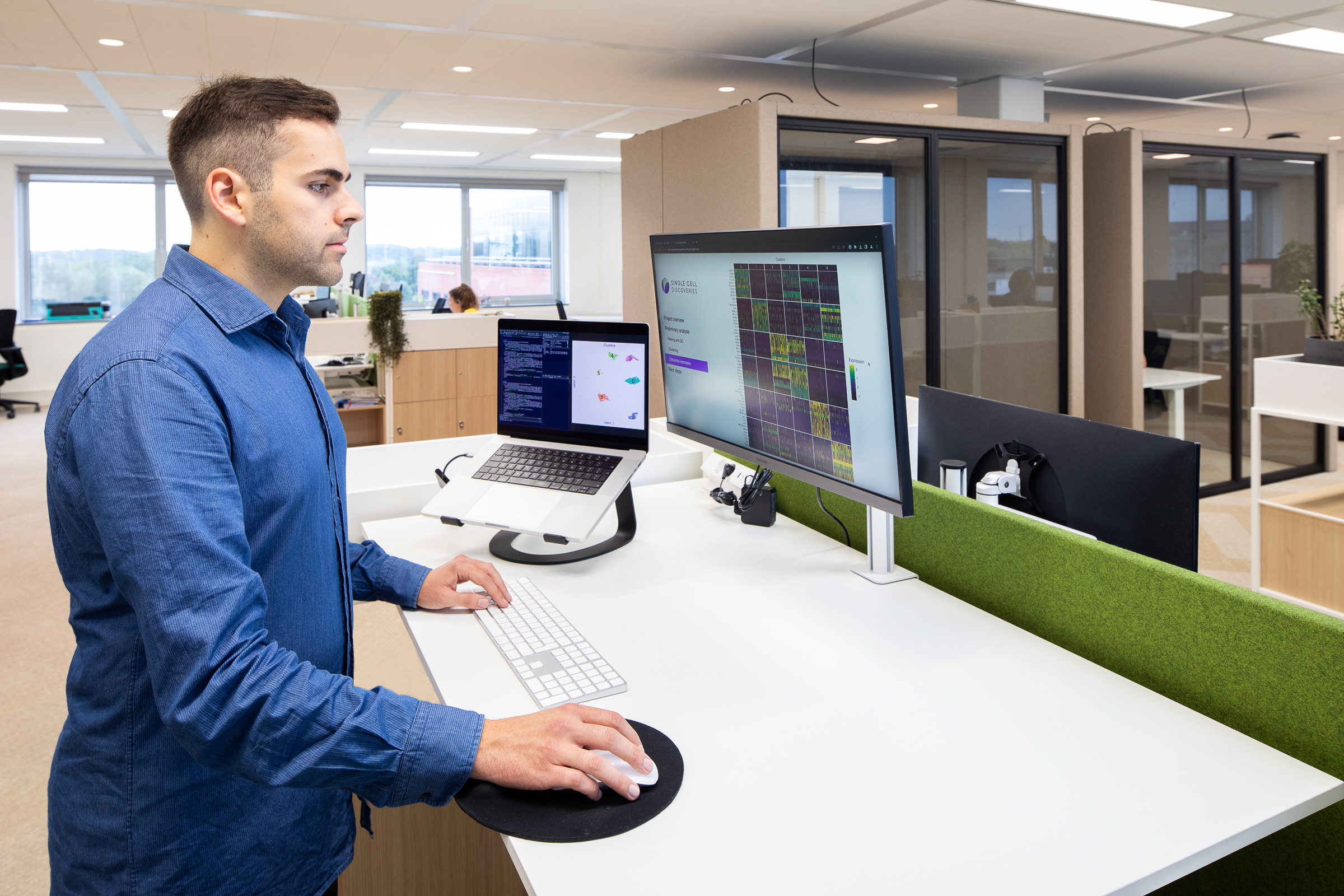 Data Analysis
Our bioinformaticians generate a preliminary data analysis report to expedite your research with every project. Our seasoned bioinformaticians perform this analysis using our custom pipelines to deliver a succinct explanation of the results and quality metrics. To further unlock biological insights, our bioinformatics team is eager to work on custom data analysis, which may include clustering analysis, gene set enrichment analysis, data set integration, and the creation of publication or presentation-ready figures.
Why choose SCD?
We are single-cell sequencing experts
We are 100% focused on single-cell and spatial transcriptomics, enabling us to take on both large-scale projects and create customized solutions for each client project.
Our experience is unmatched in the field
We have been working in the single-cell field since 2012. Our co-founder and CEO Mauro Muraro published our SORT- seq technology, and our R&D consultant is the mind behind VASA-seq. We have experience in over 40 organisms and 30 tissues and are able to quickly adapt workflows for novel samples.
We help you stay ahead of the curve
We are committed to continuously integrating leading-edge technologies into our service offerings to ensure clients have access to the latest advancements. Our R&D department works to both internalize the best commercial platforms and advance our own single-cell innovations.
We work with you as a collaborative partner
We are dedicated to maintaining a high- touch, collaborative relationship with clients as we scale our capacity to accommodate larger projects. We act as a thought partner and a catalyst for biological discovery.
Get the Ultimate Guide
Our ultimate guide is a crash-course in single-cell sequencing and will get you up to speed with how it was developed and how you can use it to level up your research.
Spatial transcriptomics reveals asymmetric cellular responses to injury in the regenerating spiny mouse (Acomys) ear
Effect of methanol fixation on single cell RNA sequencing of the murine dentate gyrus
Self-organizing models of human trunk organogenesis recapitulate spinal cord and spine co-morphogenesis
How can we help?
Want to supercharge your project with single-cell insights?
Connect with our PhD-level scientists to discuss your biological question, timeline, sample types, and other customizations for your single-cell analysis.